InRemembrance
This page is an ongoing tribute to the lives of friends and family lost on May 22, 2011, in the tragic tornado that struck Joplin at 5:41 pm.
These beloved fathers, mothers, sisters, brothers, children and friends are special individuals who are part of the close-knit Joplin community. They will be forever remembered for their courage, love, and dedication to their families, their friends, and the City of Joplin.
While great care has been taken to be accurate, this information was taken from sources available at the time. Should you find errors please email to info@joplinmo.org
---
To view our citizens lost, please click on a letter to display their information.
---
Click on the name to expand.
Eastwood, Amonda Sue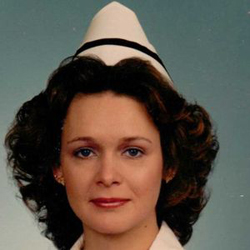 Age: 49
Amonda Sue (Brashear) Eastwood, 49 of Joplin, Missouri formally of Miami and Commerce passed away May 22, 2011 in Joplin, Missouri.
Amonda was born May 6, 1962 in Miami, Oklahoma to Leonard and Sondra Sue (Turner) Brashear. She graduated from Commerce High School, and received her Registered Nurses License from Northeastern Oklahoma A&M College. She was employed by Freeman Hospital for several years.
Family: father: Leonard Brashear of Picher, OK, mother: Sondra and the late Clifford Crabtree of Miami, OK, one son: Robert Hiram Eastwood of Miami, OK, two daughters: Amber Helen Eastwood of Commerce, OK, Erika Lynn (Eastwood) Mitchell, Galveston, TX, three sisters: Leona Ceclie (Brashear) Lewin, Tulsa, OK, Peggy Sue (Brashear) Schneoring, Corpus Christi, TX, Bonnie Ann (Brashear) Hall, Miami, OK, three grandchildren and A host of Nieces and Nephews.
Services will be held 10:00 am, Saturday, June 4, 2011 at the Paul Thomas Funeral Chapel in Commerce with Bro. Ray Clonts officiating. Interment will follow at the G.A.R. Cemetery under the direction of the Paul Thomas Funeral Home of Commerce. The family will receive friends and relatives Friday June 3, 2011 from 6-7 at the Paul Thomas Funeral Home in Commerce. Pallbearers will be Weston Hall, Miles Hall, Lance Myers, Casey Morgan, Delbert Miller and Dale Turner. Honorary Pallbearers will be Daniel Bermer and Don Lovell
Source: Paul Thomas Funeral Homes
Elmore, Richard A.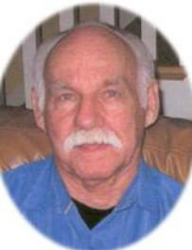 Richard Allen Elmore went to be with his Heavenly Father May 22, 2011. He was a resident of Greenbrier Health Center, and was killed in the tornado.
Born in Memphis, Tenn. November 4, 1940, he was a foreman at Cole Steel in Tulsa for many years, retiring in 2003.
Richard loved to go to his Church in Saginaw. He was a member of Saginaw Baptist Church.
He married Velta Hamilton May 13, 1993. She survives.
Additional survivors include five sons, Richard, Jr., Nick, Tony, Chris and Gary; five grandchildren; one great-grandchild; three stepchildren, Jason Hamilton, Brad Hamilton and Amber Sachetta; six step grandchildren; one sister, Betty DeGraffenried of the Memphis area; two brothers, Donny and Ronnie, both of the Memphis area.
Graveside services will be held 11:00 a.m. Wednesday at Carl Junction Cemetery. Contributions are suggested to Saginaw Baptist Church in his memory.
Source: Parker Mortuary & Crematory
England, Randy Edward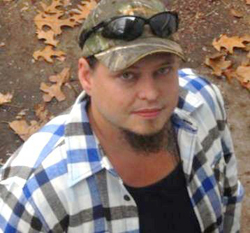 Age: 34
Randy Edward England, age 34, of Granby, Mo., Beloved Husband, Father, Brother, Uncle, and Friend, was born October 25, 1976 in Joplin, Mo. Randy left this world on May 22, 2011, one of the many victims of Joplin's devastating tornado. Randy leaves behind his wife of 14 years, Kelly Ann Barwick England; and their two wonderful children, Julie England, age 12 and Justin England, age 8. Randy was preceded in death by his parents, Raymond and Ruby Greer England.
Additional survivors include three brothers, Ricky England of Joplin, Danny and Gary England, both of Neosho; three sisters, Tereasa Neal of Seneca, Sherry Johnson and Carolyn Jarmin, both of Neosho; as well as many nieces, nephews, and great-nieces and great-nephews.
Born and raised in the Newton County area, Randy attended Seneca High School. After leaving school, he joined the workforce, working for several years as a diesel mechanic and working for the past seven years as a La-Z-Boy employee at Neosho.
Randy loved his family, friends, and life with a great passion. When he wasn't attending his children's activities or off on an adventure traveling or trading, he could be found at home with a group of family and friends Barbequing, watching movies, playing Rock-Band, or reading.
Randy always had time to help a child or a friend. He was always working on a project vehicle, including a panel van that had belonged to his father. Rand was a great organizer to plan fun trips with his family and friends, most recently, a Deep-Sea fishing trip to Texas. Randy had also taken up the game of Golf and he loved it. Randy will be missed by many.
Arrangements are under the direction of Parker Mortuary. Funeral services will be held at 1:00 p.m. on Friday at Hornet Christian Church. Interment will follow at Belfast Cemetery. Family and friends will gather at Hornet Christian Church following the interment to share fellowship and memories of Randy's life. All are welcome.
Source: Parker Mortuary & Crematory